Judith van de Loo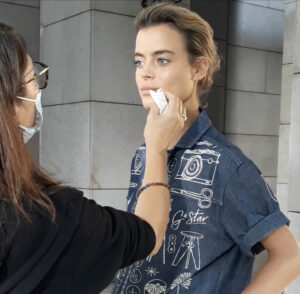 Judith van de Loo is an all-round make-up artist and hairstylist based in the Algarve Portugal. She is specialised in make-up and grime for television, photography, commercials, film, theater and weddings.
Her work has been published in many publications, including Beaumonde, Grazia, OK! Magazine, Flair, SU magazine, Creators Magazine, Flanelle magazine, Malvi magazine, Style Magazine and more.
Because of her genuine interest in new make-up techniques, fashion and trends, she makes sure she keeps growing and developing her skills.
She has received her education at
Studio Bessels:
– Make-up techniques for TV, Video, Film and Photo
– Hair work (implanting, wig construction). Working with wool crêpe and hair crêpe.
– Hair styling
– Grime
– Special effects (masks, wounds etc.)
– Working with Glatzan, Soft, Putty, Special Plastic, and Tuplast,
– HD makeup techniques